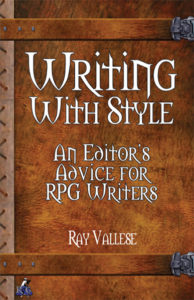 Writing With Style: An Editor's Advice for RPG Writers is a short guide I created to help roleplaying game writers polish and tighten their text. It looks at some of the most common and easily fixable issues of grammar, style, and word choice that I've encountered in more than 20 years of editing and writing games. Rookie freelancers, industry veterans, and self-publishers all can benefit from this (mostly) jargon-free guide, which delivers 45 pages of concise, easy-to-implement suggestions.
Although I wrote the guide with RPGs in mind, most of the tips are useful for other kinds of writing too. It covers such topics as using gender-neutral language, keeping modifiers from gumming up your sentences, avoiding rampant capitalization, watching for commonly confused words, revising sentences that start with "There is" and similar constructions, using present tense instead of future tense, changing passive voice to active voice, looking for chances to be specific rather than vague, proofreading your own work, and much more. Plenty of before-and-after examples show you how to put the tips into practice, and numerous sidebars scattered throughout the book spotlight interesting related topics.
Reviews
Here's a quote from a five-star review:
Writing With Style: An Editor's Advice for RPG Writers, is quite simply one of the best writing guides I've read. The PDF gives established writers and aspiring writers alike a wealth of information on grammar, style, word usage; I could go on and on. [It] has already helped me refine a manuscript I'm currently working on, and I'm not even finished reading the pdf! I encourage anyone seeking to hone their wordsmithing skills to buy this product immediately.
And here's one from a different five-star review:
Each section gives solid advice in a tone which doesn't feel condescending (that was one of my biggest fears here) along with clear examples of what the author is talking about. This alone makes the book worth the price of admission, as like some of you, I require examples instead of just explanations to be able to grasp a concept. The tone of the book as a whole is warm and welcoming, something that I very much appreciate, and there feels as though there's a genuine desire by the author to educate their audience. Despite the book being 40+ pages, it's an incredibly easy read (I might have taken about 30 minutes to go through it once before giving it a second read), and it has become an indispensable resource for me since picking it up.
The award-winning gaming blog Gnome Stew also published a detailed review of the guide. It says, in part:
If you're a writer, this is an excellent investment of $4.95. If you're thinking about creating role playing materials (adventures, rules, setting books, anything else), then this is a great expenditure of $4.95 for the PDF. If you happen to be doing both, like I am, then you owe it to yourself to pick this book up.
Where to Buy
Writing With Style is published by Rogue Genius Games and is for sale at the following places:
DriveThru RPG web store
Currently a gold best-seller with 13 five-star ratings (including nine reviews).
$4.95 for a PDF download
$9.95 for a color softcover print book
Or get both for a reduced price!
Amazon
$4.95 for a Kindle download
$14.95 for a color softcover print book
Paizo web store
$4.95 for a PDF download
Open Gaming Store
$4.95 for a PDF download